Little Giant VCMA Series  of products are some of the most used pumps for AC as well as Furnace unit. These pumps are required to be cleaned after regular intervals that should be more or less one year. However these are very simple to clean.
First of all, you need to unplug it from receptacle and then takeout the plastic tube. There are two screws which are supposed to keep holding the unit in place. Unloose these screws so that you should be able to clean it properly.
These pumps work great to collect, detect and remove the humidity from the air which is produced because of air conditioning. This is a fantastic series of condensate pump products for your de-humidifier and it performs very well with the furnaces. You can use them at any place where you need to have an automated drain pump. These are equipped with a stainless steel pump, a pump switch (snap action) and a shaft. All are also provided with a long power cord (6 feet) and a thermal overload protected motor (1/30 horsepower) to achieve higher level of performance. So if they gets overloaded, still they can manage to handle the load. The pumps are provided with the ABS tank along with an ABS cover for motor. An ABS volute also comes along with this pump. Volute is a kind of centrifugal pump which receives the liquid being pumped up from the storage tank. Tank of the pump has capacity of 0.5 gallon.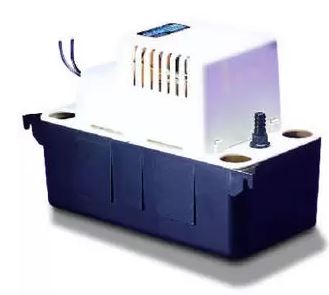 Especially there is VCMA-15ULS, which is appropriate for gas-furnace, high-efficiency condensation. It has 3 drain holes that are with 8.7 PSI and 20 ft. shut off head. This condensate pump is able to drive 50 GPH to 5 feet. It offers intermittent liquid Temperature of up to 120 degree Fahrenheit. With VCMA-15ULS, Little Giant once again shows the state-of-the-art in a pump design.
Check also our full review about the VCMA-15ULS to find more about this condensate pump.